Scroll Chucks - How Do They Work?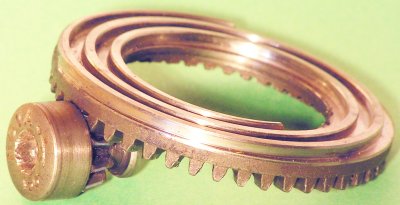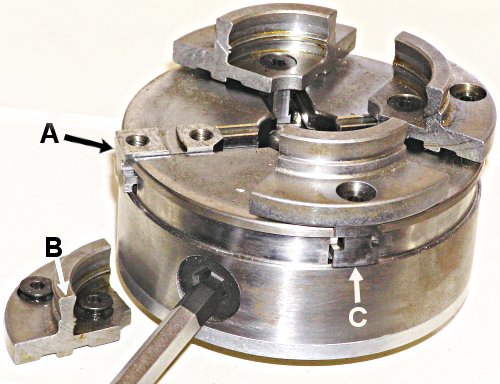 Inside the chuck there is a scroll which is a steel ring with a spiral track. The chuck jaws have teeth which engage with the scroll. When the scroll is rotated, all four jaws slide inwards or outwards in unison in their Tee slots so they are always concentric.
Sometimes on budget chucks the scroll is pulled round using tommy bars to open and close the jaws.
On better chucks there are small pinions or bevel gears which engage with gear teeth on the reverse of the scroll. You insert a T bar to turn the pinions and operate the chuck.
Top of the range chucks have an enclosed gear mechanism to keep the dust out.
In the picture on the left of a Supernova scroll you can see the spiral on top and the gear teeth below. The bevel gear underneath has a hexagon socket to accept the T bar. Some chucks have a square socket.
The other picture shows a Patriot chuck with one dovetail jaw removed to show the mounting jaw at A.
The mounting jaws are retained in, and slide in, T slots in the body of the chuck. C shows the T shaped section of the mounting jaw. They have threaded holes for attaching various sizes and shapes of accessory jaws. Shown are the standard 50mm dovetail jaws supplied with the chuck.
At B you can see on the cut surface of the jaw section that the jaws are angled like a dovetail inside and out. This enables the jaws to hold very strongly onto the wood.
Scroll chucks designed for woodturning have four jaws (metal turning ones are generally three jaw) so it is possible to grip square section wood.