The best Hot Wire Pyrography Kit - now made by Robert Sorby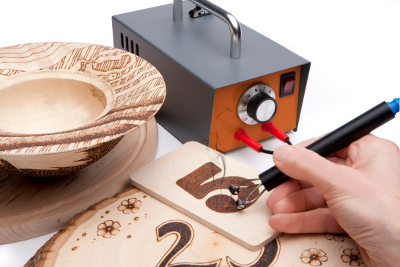 Light, accurate, controllable pen
Variable heat up to 1100 degrees C
Writes quickly and as fluently as a fountain pen
Handle stays cool even after hours of work
Tips easy and very cheap to replace
Easy to make your own tips from special wire supplied
Make tips to your design
The Peter Child Artist's Pyrography Machine
has been made by hand here at Little Yeldham for more than 40 years and the manufacture has now been taken forward with an improved design by the highly respected Robert Sorby tool company in Sheffield. It is deliberately over-engineered to be extremely robust and reliable. Units out there have been working hard continuously for twenty years or more. It is ideal for professional pyrographers who depend on this tool to make an income.
The power unit is housed in a strong steel case and if you look inside you will see no electronics (to go wrong) but solid brass and phosphor bronze heavy duty components designed to withstand many years of use. If it is damaged it is easy and economical to repair.
Available from Turners Retreat. Please see notes below if you live outside the UK
Turners Retreat have a shop in Harworth, a nice printed catalogue which you can ask them for and of course you can buy online. They are worldwide distributors for the Peter Child pyrography outfit (under the Craft Supplies brand) plus all spares and accessories. They also sell a comprehensive range of woodturning tools, equipment. The original Peter Child shop is now closed.
The unique pen gives precise control

The pen or "handpiece" is necessarily more delicate to be light and accurate to use but nevertheless they can last for many many years. Specialised "space age" chrome and nickel alloys are used to concentrate the heat at the business end and keep it away from your fingers. The design has never been equalled for comfort and ease of use. The handle stays cool and comfortable even after a hard days work.
Spare pens are available. This is handy because you can have, say, one pen with a detailing tip and another with a shading tip. It is quick and easy to just unplug one pen and replace with the other and saves constantly changing the wire tips. Extra pens are available from Turners Retreat here Spare pen
Range of tips available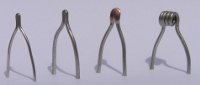 The tips are just loops of wire which are easy and very cheap to replace. You can make them yourself but be sure to use the special alloy wire available in various weights to suit the job. The machine is supplied with fine wire for doing pictures and fine detailed burning. If you want to use it to enhance bird or stick carving, thicker wire is available. If you want to do really heavy burning for such as house nameplates then extra powerful points are on sale or again you can make them yourself without specialized tools.
The wire points can be shaped for various tasks such as fine line work, shading, calligraphy and even for texturing or piercing woodturned projects. Please go to the next page to see more of the machines capability.
For customers outside the U.K.
Suitable units are available for other countries as follows : - -
Euro 240 volt machine fitted with Schuko plug.
U.S.A. (and Canada) machine specially made with 110 volt input and U.S. style power cord and plug.
Select from the drop-down list on the Turners Retreat page to choose the correct machine for your electricity supply.
Machines are,in fact, available for most countries complete with the appropriate power cord and plug and with a transformer suited to the electrical supply. The Turners Retreat website lists UK, European, American, Canadian, Australian and Japanese versions and may expand the list as time goes on.
Robert Sorby is the manufacturer now and machines are available from some Robert Sorby retail outlets. See the Robert-Sorby.co.uk website for a list of dealers in your country.