A fine quality British made scroll chuck at a reasonable price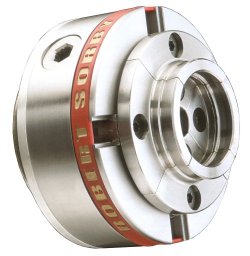 Patriot chucks available from Turners Retreat
A reliable, hardwearing, easy to operate self-centering four jaw chuck.
Powerful grip both ways
Versatile, strong, compact, light weight
Geared scroll with one handed T bar tightening.
The ball nose T bar gives effortless tightening and will tilt away from the chuck at an angle allowing the chuck to be used inside a bowl.
This feature is handy for rechucking bowls which have been roughed out from green wood.
Easily changed threaded inserts available to fit most lathe threads
Wide range of jaw sizes and quality accessories available
Jaws and inserts are compatible with Supernova jaws and inserts.
No dismantling required. Jaws are easy to change with the tool provided.
Low overhang to reduce vibration and strain on lathe bearings
The back of the chuck is enclosed with an aluminium machined dust cover
A red rubber ring around the chuck helps to protect your fingers should they touch the chuck
Machined steel body, diameter 100mm
Jaw movement - 25mm change in diameter (limited by safety stop screw) (Supernova is only 15mm)
Supplied with "50mm" steel self centering jaws which grip both internally (expand into 56mm recess) and externally (compress onto 49mm "spigot").
Also supplied with screwchuck insert for initial mounting of bowl blanks etc, threaded insert to fit your lathe and large spanner for fitting or changing inserts, ball end T bar, hex keys and manual in cardboard box.