Pyrography machines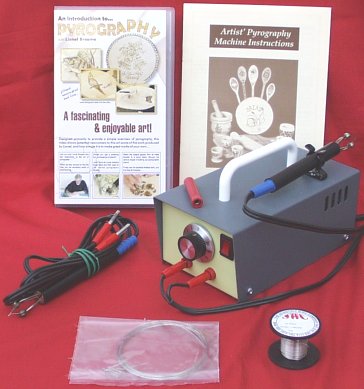 This is our De-lux Pyrography Outfit code PYRX2. It includes the power unit with two pens together with a video by Lionel Broome and an extra reel of wire shown bottom right. The instruction manual is shown top right in the picture and the packet at the front contains the usual 6 spare points and a supply of fine wire.
The 4mm "joiner" (shown here placed on the top of the power unit) can be used to run both pens simultaneously. Although each pen will run at reduced power and exactly the same current, there is plenty of power available for most applications.
The video is "An introduction to Pyrography" which runs for about 59 minutes.
The extra 1 ounce reel of wire is normally supplied as 24 SWG which is the gauge specified in Stephen Poole's book. If you want, you can choose another gauge instead.
The cost of this package is £139.90 which includes VAT and postage in mainland UK. (extra postage applies to Highlands and Islands)
England and U.K. You can order just by sending an email but you should send your card details by secure means. The most convenient is to go to our secure server order form where you can fill in all your details including your order and card number and send it to us safely protected by 128 bit encryption. Just click on secure order form , fill in the details and click on the "submit" button. Alternatively you can telephone us on 01787 237291 (closed Mondays but there is an answerphone).
U.S.A. We regret that we can no longer supply pyrography machines to US and Canada. more info
More ordering information and privacy statement etc
Back to home page