Pyrography machines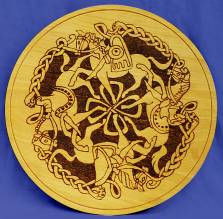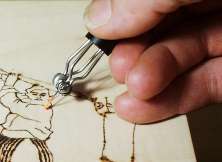 ---
Prices and ordering info - click here
---
Pyrography is burning detailed pictures and decoration on wood. Pokerwork is similar but cruder. The best way to do either is with our machine which we have manufactured and perfected over the last 30 years or so.
What can the Child machine do? Why is it used by the best professional pyrographers in England?


Our machine is in a class of its own for fine detailed work. The point is very fine and hot. It can be used as fluently and accurately as pen and ink to create detailed pictures and designs. The efficient design of the pen is the secret of its success. It is slim, light and comfortable to hold. The tip is close to your fingers so it is like holding a fountain pen. Even with the tip running at 1000 degrees centigrade very little heat runs back to the handle. This is because the space age alloys used in the construction have an extremely low conductivity to heat. The pen can be used for many hours at a time without the handle becoming uncomfortably hot. The terminals are very reliable and the point is easy to change. You can easily buy or make points from (special) wire and fit them without technical skill. A huge variety of points can be made by you quickly and at extremely low cost. Points can be filed to a point for very fine detail or made up to 4mm wide for heavy duty work.

Can it be used for feathering effects on carved birds?

It is not designed for this but does it rather well. It is easy to make the tips using nickel chrome wire. The cost of making a new tip is very low indeed and you can devise shapes to suit yourself. The big advantage of using our machine is that the handle stays cool and it is very light and accurate - it can be used for long periods without tiring.

PYROGRAPHY TECHNIQUES and more info - click here!
PYROGRAPHY GALLERY AND LINKS - click here too!
Ordering a Peter Child Pyrography Machine - Starter outfit.
The starter outfit includes the transformer, pen fitted with fine point, 6 spare points, a supply of fine wire and instructions. It costs £89.80 inc VAT plus £3.50 postage = £93.30 total in UK.

The de-lux outfit is the same but has an extra pen and a copy of Stephen Poole's excellent book "Pyrography Handbook". It also come with a reel of 24 SWG wire as recommended in the handbook. It costs �125 including VAT. Postage is free in UK.

England and U.K. You can order just by sending an email but you should send your card details by secure means. The most convenient is to go to our secure server order form where you can fill in all your details including your order and card number and send it to us safely protected by 128 bit encryption. Just click on secure order form , fill in the details and click on the "submit" button. Alternatively you can telephone us on 01787 237291 (closed Mondays but there is an answerphone).

U.S.A. and Canada We regret we cannot supply pyrography machines to customers in US and Canada click here for more info

More ordering information and privacy statement etc
Back to home page