Grinders for sharpening woodturning tools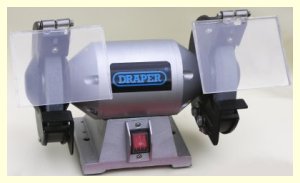 I use a 6" grinder like this Draper
High-speed double-ended dry grinders designed for metal machinists are used by the majority of woodturners - perhaps because they are inexpensive and easily obtainable.
A machine with 6" diameter stones is the smallest machine you should buy. 5" grinders can be underpowered, and the small radius of curvature will produce an excessive "hollow grind" on the tool bevel. An 8" machine is very nice but might cost quite a bit more and the added benefit is not great. My advice is to buy a medium priced far-Eastern 6" grinder and invest in better grinding stones. Grinders generally come with two poor quality grey coloured grinding wheels, one coarse and one fine. You should change at least one of these for a cooler cutting wheel or you risk damaging your expensive tools by overheating the edge.
Choosing a suitable grinder
A good bench grinder should have an easily accessible and dust proof on/off switch, substantial guards around the wheels and transparent "flaps" above the wheels which should be easy to replace as they soon get scratched or broken. The best mounting arrangement for these guards is just a couple of screws through the top of the transparent plastic. Then it is easy to replace them with offcuts, preferably strong polycarbonate, from a double glazing supplier. If the flaps are not clean you will be tempted to swing them up so that you can see better, which is unsafe.
There should also be metal spark guards which can be adjusted downwards as the wheels wear, to close the opening above each wheel.
A 300watt motor is quite powerful enough but some grinder motors are not continuously rated. You may see on the label something like "rated ON for ten minutes and OFF for 15 minutes." This should not trouble you unless you plan to do a lot of heavy grinding but if you can, choose a machine with a continuously rated motor which is likely to be more reliable.
Another thing to watch out for is the width of the wheels. Some cheap grinders have wheels which are only 16mm wide and if you try to fit a wider wheel you may find it will not fit because the threads on the motor shaft are not long enough to reach through.
The wheels should be easy to change. If you want to fit a wider wheel, ensure that there is enough space within the guards to accomodate one. The flanges are the big washers which clamp either side of the wheel. Ideally these should be machined from solid metal not "pressed" - this makes accurate wheel fitting easier.
Other grinders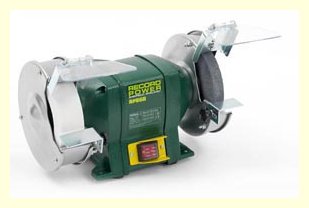 Record RPBG6
This Record 6" grinder has a fine white wheel which is extra wide (40mm). Ideal for skew chisels but primarily intended for cabinet makers tools such as plane irons. Woodturners would need to fit a harder fine wheel on the right for gouges and other curved blades because the white wheel would go out of shape if used for frequent grinding of gouges. A five year guarantee is included with this grinder.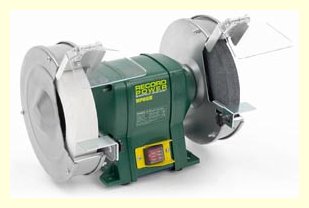 Record RPBG8
This larger and more powerful 8" grinder also has a fine white wheel which is extra wide (40mm). The 8" wheels will give less curvature on the bevel of the tools. Woodturners need to fit a harder fine wheel (preferably microcrystalline) on the right as with the smaller grinder. With five year guarantee.
Wet grinders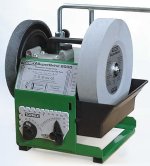 You might well be tempted to buy one of the slow running wet grinders especially if you do a bit of cabinet making and you need to sharpen plane irons and other wide carbon steel blades without any risk of "burning the edge".
These machines do a fine job and will give a superb razor edge to all your tools. However for sharpening woodturning tools they have some significant disadvantages

They cut so slowly that reshaping or rectifying a mis-shaped tool is tedious and woodturners are impatient!
The grinding wheel supplied is necessarily soft to give good results with wide carbon steel plane irons, carpenters chisels and the like for which the machine is designed. This is not the fault of the machine but you will find that grinding high speed steel woodturning gouges will ruin the wheel quickly and they are very expensive to replace.
Because of the above problem you would need an additional dry engineers grinder for grinding the HSS gouges (it's cheaper than replacing the wet wheel!). Alternatively you could fit a harder wheel to the wet grinder if it is just woodturning tools you need to grind.
Half speed grinders
The idea behind these is that the motor running at 1500 rpm instead of 3000 rpm gives a more controllable progressive cutting action with less risk of overheating the edge. You may be attracted to these machines but you will find that they are very expensive and that it is cheaper to fit a cool running fine wheel to a standard grinder and this will give just as good a result.
Sorby Pro-Edge System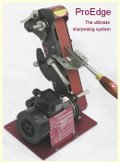 This is more accurately described as a linisher. It is a complete system with jigs included which will sharpen all turning tools and cabinet makers tools as well. Click here for the Pro-Edge Page ProEdge system
---