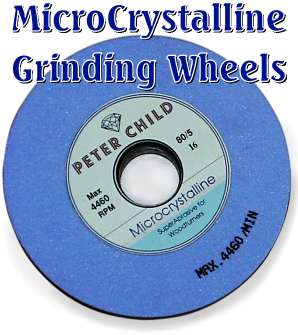 The best grinding wheels woodturners can buy are made from Microcrystalline grit. These grind twice as fast and much cooler than the best conventional wheels. They give an extremely keen edge and are easier to use. .
They self sharpen as they grind, wear slowly and require minimal dressing. They can last up to five times longer than a white wheel so they are well worth the extra money.
They will comfortably outperform white, red, pink or blue fused aluminium oxide wheels and of course they are light years ahead of those awful grey wheels which come on cheap grinders.
Micro crystal grit is made using radical new ceramic technology which is revolutionising the abrasives industry. Each grain of grit is actually a clump of hundreds of tiny crystals sintered together. The crystals continuously break away in use exposing thousands of fresh sharp microscopic cutting edges. Because the crystals are so small and numerous the finish on the steel is as good as from a very much finer wheel. The edge you get is almost as good as that from a wet grinder but obtained very much quicker. The cutting is so fast and cool you can quickly re-shape a tool without burning the steel. It works on carbon steel as well as HSS and you can even (with care) sharpen the thin edge of a carpenter's chisel. Try that with a conventional wheel!
| | |
| --- | --- |
| | Conventional abrasive is made from crystals which may or may not fracture under pressure and break down into smaller ones as the edges blunt. Blunt abrasive rubs and overheats your tools. |
| | Microcrystalline abrasive is made up from tiny clumps of hundreds of tiny sharp crystals. The crystals ("microcrystals") continually break away as they are used exposing millions of fresh sharp cutting edges. These cut cool and leave a fine finish on your tool bevel. The quality of the cutting edge produced is superb. |
Sizes available include . . .

Fine 150mm x 20mm

£28.50

Fine 150mm x 25mm with recess - 19mm thick at centre of wheel.

£36.60

Fine 200mm x 25mm

£59.80

New coarse 150mm x 25mm- very fast cutting for re-shaping HSS and carbon steel tools. No recess.

£29.90

Microcrystalline wheels fits Tormek. and other wet grinders. Fast cutting and very hard wearing. 12mm bushes supplied unless you specify otherwise.

Fine 250mm x 45mm 180 grit equivalent £86.60
Fine 200mm x 40mm 180 grit equivalent £59.80
More info

BORE SIZES AVAILABLE
All wheels have a 31.75mm bore (1,1/4"). We will fit plastic bushes at no extra charge to suit the shaft size you specify. Choose from 1/2", 5/8", 3/4", 7/8", 1", 15mm, 20mm.
---
Our special pink grinding wheels deliver . . .

Cooler cutting than white or ruby
A keener edge on your HSS tools
Longer life
They hold their shape better than white wheels

Pink wheels for the Tormek wet grinder. See below
PINK aluminium oxide wheels are even better than white wheels.
Many professional turners advise that you fit a white aluminium oxide wheel but why not treat yourself to something even better? Pink grit (sometimes hyped as artificial ruby) is a tougher abrasive which keeps its shape better than white. It is ideal for sharpening HSS gouges which tend to wear white wheels prematurely. As the pink wheels cut cooler and faster they are also ideal for skew chisels - in fact you will get better results with all your tools HSS and carbon.
"Fine" grit pink wheels are 80 grit with a special vitreous binder. Tools seldom need honing after the grind.
We also stock coarse wheels which are great for shaping or reshaping or correcting the tool profile. If you can, have a fine wheel at one end of the grinder and a coarse wheel at the other.
Are they artificial ruby? Well - yes - all rubies both natural and manmade are in fact aluminium oxide with the addition of a little chromium which makes them pink or red. Our wheels have just the right amount of chromium for the coolest grind on HSS. Peter Child Woodturning Supplies has been selling grinding wheels, specially for woodturners, for over thirty years and we have spent a lot of effort formulating the grit to be just right for your high speed steel tools. If you cannot go the expense of the blue microcrystalline wheels then one of our pink stones will be the ideal upgrade for your grinder.
Pink wheels to fit the Tormek grinder
The excellent Tormek comes with very soft wheels, designed for plane irons and other wide blades, which rapidly go out of shape when sharpening HSS gouges etc. You need a harder tougher, faster cutting wheel for woodturning tools and we provide them. Our pink wheels suffer dramatically reduced wheel wear and are economically priced. They are 180 grit which gives a good edge with fast cutting. Only 250mm x 50mm currently available in pink. more info
Sizes available include . . .

Fine 125mm x 16mm

£13.25

Fine 150mm x 20mm

£16.50 OUT OF STOCK

Fine 150mm x 25mm with 70mm x 6mm recess in one side

£20.70 OUT OF STOCK

Coarse 150mm x 20mm

£16.50

Fine 250mm x 50mm for wet grinders including Tormek

£62.75

Hard wearing pink
wheel fits Tormek
(and other) wet grinders.


Fine pink 180grit 250mm x 45mm

with 12mm bushes

£62.75
more info

BORE SIZES AVAILABLE
All wheels have a 31.75mm bore (1,1/4"). We will fit plastic bushes at no extra charge to suit the shaft size you specify. Choose from 1/2" (12.7mm), 5/8", 3/4", 7/8", 1", 15mm, 20mm.
How to order - and postage rates
If you live outside UK please email for a quote.
This page updated April06- contact us for latest prices and offers Back to home page