Where can you buy polish for woodturning?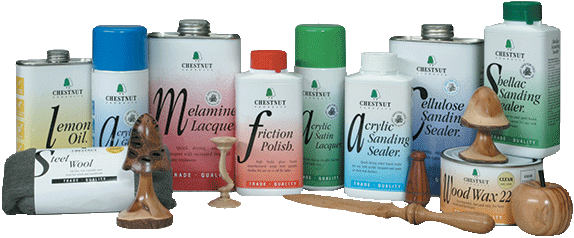 Many liquid polishes are classed as hazardous materials by the post office, and even by many couriers, so it can be hard to buy some products online or by mail order.
Can you buy online?
The Royal Mail is quite strict about inflammable liquids sent in the post. If they discover something like a tin of cellulose sanding sealer (it is as inflammable as petrol) in a parcel they can confiscate and destroy the whole parcel even if the parcel also contains non hazardous items - like a chuck! So you can lose the lot. It is understandable that many dealers will not supply polishes by mail order or they will apply higher postage costs. Some couriers can be persuaded to carry inflammable goods provided special labelling is used on the box outer. So you may be able to find a dealer that will take a chance and send polish to you. You would be best advised to go to the larger dealers who have more clout with the couriers.
Waxes and water based polishes are of course much safer so you should be OK with those.
Local shops
Chestnut products have a list of UK dealers here Chestnut Products
Many other brands of polish have websites with a similar list of dealers.
Woodturning clubs
Many woodturning clubs sell a small selection of hard to get items including polish, abrasives and glue at the club or branch meetings. So you could consider joining you local club. There is a list of AWGB branches here Club list
Make it youself!
A mixture of beeswax and carnauba wax makes a lovely polish. Carefully melt some and pour into aluminium foil moulds to set into a solid block. You can buy carnauba wax online and you can usually find a local source of bees wax. If you melt the stuff well into the grain of the wood on the lathe you may not need sealer.
Previous pages in this article on polish and abrasives
SAFETY PRECAUTIONS
Read the instructions and safety warnings on the containers.
Use solvent based finishes only in well ventilated areas and avoid skin contact as much as possible.
NO SMOKING! Always be on guard against any fire risks. Do you have a suitable fire extinguisher available in case of fire?
FOOD SAFETY. Most finishes are non toxic and many are labelled "safe for toys". It so happens that it is cheaper for a polish manufacturer to get a product tested and approved for toy safety than it is for food safety but if it is safe for babies it should be safe for us!