Pyrography gallery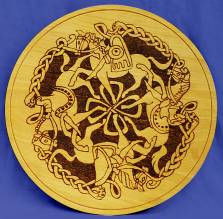 Click on the names in the list below to see examples of woodturning and pyrography. Click on any picture to see a larger version then use your browser "back" button to return.
The beech platter above was sent to me by Lesley Lanman as a thank you for repairing one of our oldest pyrography machines. Her machine had been in constant use for 20 years or more! She specialises in celtic designs. This is the only picture of her work I have so far.

---
Lionel Broome. Portraits done to order.
Pyrography in schools. Pictures of kids engrossed. Many schools have great success with pyrography in the technology department.
Bob Neill Pyrography. Art Deco style turned platters with pyrography - some coloured. Bob is one of the best known pyrography demonstrators and teachers in the U.K.
Graham Roper Pyrography. Graham does portraits and commissions.
Mixo Sydenham. Pyrography from Victoria, Australia.
Tony and Christine Witham. Some very fine woodturning with applied pyrography. Some good examples of the application of colour and texture to turned pieces.
Richard Withers. Some fine portraits and more.
Daniel Wright Pyrography. Some excellent workmanship and attention to detail.
Jeff Wyatt Pyrography. Fine detail and some very interesting frames around his pictures.
---
---
| | |
| --- | --- |
| Click here to buy a pyrography outfit with UK 13 amp plug | |
IMPORTANT - for customers outside the U.K.
The link above leads directly to the UK version with UK 13 amp power cord and plug. Suitable units are available for other countries as follows : - -
Euro 240 volt machine fitted with Schuko plug please click here
Euro machine sold by Turners Retreat
U.S.A. (and Canada) machine specially made with 110 volt input and U.S. style power cord and plug please click here.
U.S.A. voltage machine sold by Turners Retreat
Machines are,in fact, available for most countries complete with the appropriate power cord and plug and with a transformer suited to the electrical supply. The Turners Retreat website lists UK, European, American, Canadian, Australian and Japanese versions and may expand the list as time goes on. Robert Sorby is the manufacturer now and machines are available from some Robert Sorby retail outlets. See the Robert-Sorby.co.uk website for a list of dealers in your country.