Faceplate Rings

Faceplate rings fit onto the Masterchuck jaws. You screw them to the wood and expand the basic jaws (70mm) of the chuck into the recess at the rear of the rings.
The small one "A" on the left above is 83mm diameter. The same component is shown face down (right) to show the recess for the chuck jaws.
The large ring "B" in the middle is 94mm diameter and has the same size recess machined in the back of it. This large ring has two fixing holes for mounting screwchucks as shown below. The small ring cannot take these screwchucks.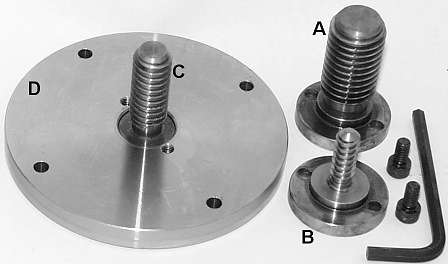 Items A, B and C above are machined parallel thread screws which fit onto the faceplate ring (the 94mm one only) to turn it into a powerful screwchuck. Screw sizes available are 5/16", 1/2", 3/4" O.D. and they come with key plus fixing screws.
Uses for the Masterchuck Body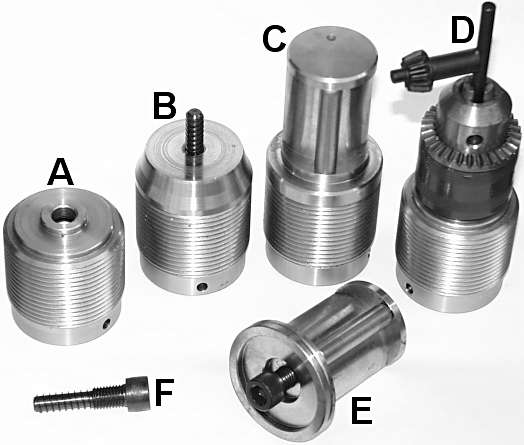 Masterchuck Body accessories
"A" above is the threaded insert or "body" from the back of the Masterchuck which screws onto your lathe thread. It can be purchased and used independently of the chuck for mounting various accessories. It is available to fit many different lathe spindles as in our Thread list.
"B" shows this body plus screw (F) plus "smooth nosecone" assembled to make a small screwchuck. You have the option of 1/4" or 5/16" O.D. screws.
"C" shows a body fitted with a pin chuck (also shown at "E"). 1,1/2" and 1" pinchucks are available in left or right hand versions.
"D" shows a body fitted with a specially machined 1/2" drillchuck.